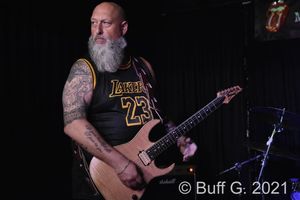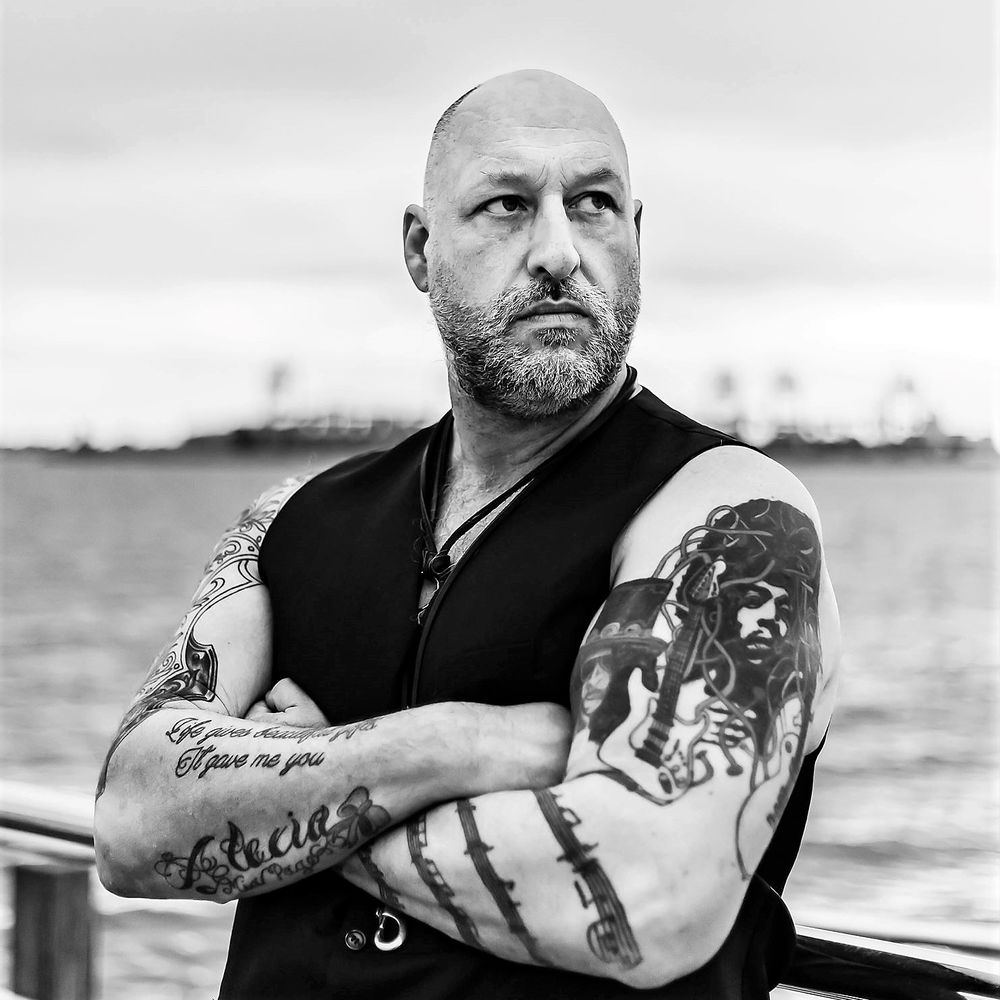 Music:
Paul's parents immigrated to Australia when they were teenagers during the sixties. They married young and he was born shortly after. His childhood was filled with music. Their house rang with a great variant of genres from Rock, Psychedelia, Pop, Country, and Italian tunes. His family lived in a block of flats in a northern Melbourne suburb where a few other young couples blasted music constantly, "Even as a toddler I used to sneak out and hang where the music was playing, it made my parents crazy but I really loved listening to music!"
His parents enrolled him into the Johnny Young Talent School at the age of 4 where he stayed until he was six. He loved singing but hated dancing. "Even then I knew, as a fat kid (no matter how good you are) you are always going to look like a baby hippo in a tutu when you are dancing." As such, his dance floor days died a swift death there and then. The only thing that truly made sense to him was the increasing accessibility of music videos on television. "Even though they were very primitive compared to now, music videos from the early seventies are burned into my brain and hold high sentimental value." Through watching these videos, Paul Louis Villani discovered certain individuals and groups that would shape his life forever, mainly Jimi Hendrix and Ace Frehley.
In 1977 he begged his parents to send him to guitar lessons. They yielded under the condition that he learned classical guitar & theory as well as agreeing to sit for a minimum of four "Australian Guild of Music" exams. If he achieved that, then his terms were to be an electric guitar, amp and distortion pedal. "I was 11 when I fulfilled their expectations and they obliged mine. Thus, began the end of peace and quiet as they knew it!"
When asked about why he loves music, Paul Louis Villani will tell you, "I love the feel of being in a band and playing music usually at full throttle. I love that unique sensation of unity within a band when the music grooves and flows like ocean waves, almost effortless but so powerful. I love composing, writing, creating, practicing, rehearsing, playing live for 10 people and/or playing live for one thousand people!" It lives inside him. He has an extensive solo catalog and is at peace being on stage whether it be on his own or in a band. "But…nothing feels better than playing music with three or four other like-minded people."
Like most humans, he had bills to pay and mouths to feed and so having a career that paid a regular income was a necessity. He never wanted the people that he cared about to suffer while he pursued his dreams. Alongside music, he can often be seen in the mountains with a camera in hand "I pursued life for a while as a photographer but found it difficult to work within non-creative parameters (Weddings, Baptisms, Fashion, etc.). Photography is still a passion but unless I'm shooting a personally developed theme or subject for an exhibition then my camera just collects dust."
Life itself is what inspires his music and creative side. "The world I'm privileged to be a part of is what inspires me. The good and the bad, it seems that you cannot have one without the other." People also inspire him. The ones he allows to get to know him deeply influence him to create music. When it comes to his musical inspirations, there isn't enough space on this page for him to have listed them all, however, to spin off a couple that did have a massive influence on his psyche and music you would need to start at the beginning, "The Beatles". As a very young child, he heard what he described as "this amazing music" coming out of a neighbor's apartment and went to investigate. The young couple played Beatles albums for hours and hours as he would sit on their floor and listen to them sing along. His parents played The Beatles at home but it was music from their early years. Their neighbors mainly played everything post Sgt. Peppers. "It still is some of the best music and songwriting one could ever want to hear."
Jimi Hendrix was another big influence on him. "He (along with a fellow I'm about to mention) are the main reasons I ever picked up a guitar. That sound… those notes… that feel… that vocal drooool… Mitch Mitchel on drums… Chas Chandler on Bass… I was intoxicated and there was never any looking back!" As well as his love for these musicians, he also held a massive space in his heart for Ace Frehley, Pearl Jam, Steve Vai,  Led Zeppelin (Jimmy Page), Prince, Guns 'N' Roses, Slayer and Yngwie Malmsteen. "I was 13 when my dad bought me a copy of the then current issue of "Guitar Player" magazine. Inserted was a black "floppy" vinyl 7 inch single of Yngwie Malmsteen's "Black Star" along with tablature for those that way inclined. I got home, put it on the turntable, put the headphones on and was not the same person I was previous to putting those headphones on! I'd never heard guitar playing like that. I fell deeply in love with those arpeggios and staccato's and all those fiddly widdly things that he does so well!" Another one that stood out for him was Metallica feeling that they inspired him greatly as a songwriter. "I loved their songs, some are ten minutes long, they are like epic conversations." When discussing his influences, Jeff Buckley and Tim Buckley made the list. "I, unfortunately, discovered Jeff's music after he had left this world. Yet the impact he has had on my psyche and songwriting is immense. Maybe, I was at a certain stage in life when something comes around and has that massive impact that almost gives light when all you see is darkness? That's what Jeff Buckley is to me… light. Through Jeff, I had the pleasure of discovering his father's (Tim) music and what a joyful journey that turned out to be. Jazzy, soulful, folky and complex yet totally brilliant. So inspiring and what beautiful voices they both had."
Paul Louis Villani's first paid gig was for a pub gig at the age of 15. He played classical guitar as background music to diners every weekend on a local bay cruiser until he was 16-year-old. He left school at 17 and played in bands full time from then onwards. He has always written his own music and is strongly passionate to continue to do so.
2022 PLV Update: Whilst band life may have died a quiet death during the Covid period, I still compose, record and play, whether any of it gets heard is not something I really care about at this time. Upon reflection of the last 37 years of my musical life, i have many wonderful things to reflect on, as well as many moments and choices I wish I had never experienced or made.
Only human I suppose.
Anyways, there is one thing that is circling its way round my head and that is choosing to live a life as a creative... why? Yes, it is a "passion" but what good is passion if you cannot pursue it daily and not have that passion affect and negatively impact the life of others you care about (immediate family and financial obligations). If i could advise the younger version of myself, I would plead him to take up the pursuit of achieving something that is measurable by skill rather than popular/general  opinion of talent. Let me explain... If I was a Tennis Player, and I played Tennis in front of a thousand people, they could then use their opinions on my game (like Guitar and Songs) by saying things like "Hey, he can play", "He's got a great serve", "Wow, he's got great net coverage", etc.
But, and here's the kicker, regardless if you don't like my serve (Guitar playing), my volley's (Songwriting) or my overhead smash (Singing), if go out and beat an opponent, and win a tournament, everyone's opinion means absolutely nothing because I won.
Take that hypothesis further... Let's say I beat all opponents and win a major tournament with prize money. Family is not impacted, in fact they are taken care of and opinions on my actual game do not impact income (or sales) because my success is actually measurable by tangible means... victory over an opponent.
So, that's where it's at, I can't change what it is that I am or have been but if you want some advice, being a creative can be fulfilling but in my experience it is painful and a drain on life and its necessities. 
Pursue something else where others opinions do not determine your ability to earn an income.
Photographic Artist CV: 
2005 Two group exhibitions at the Toyota Community Gallery in Hobsons Bay.
2006 Finalist in the Williamstown Festival – Tattersals Contemporary Art Prize.
Exhibition was held at The Substation Gallery.
2007 Finalist in the Kodak Salon Contemporary Photography lAward 2006. Exhibition was held at the Centre of Contemporary Photography, Melbourne.
2007 Solo Exhibitions… at Cusp Gallery in Northcote and at The Brunswick Arts Space.
2007 Winner of the "Best Alternative Medium" Award at the Hung Art Exhibition.
2007 Exhibited at the "He Who Belongs" Exhibition at the Walker St Gallery.
2007 Winner of the "Peoples Choice" Award at the Digital Hardcopy Exhibition at The Gasworks Gallery.
2007 Was one of four photographers exhibited at The Galeriazero in Barcelona Spain.
2007 Solo Exhibition for the series "Hearts At War" at the BSG, Fitzroy.
2008 Finalist in the Julie Millowick Acquisitive Photography Prize.
2008 Commissioned to supply photographic artwork for the main public foyer of a regional health care facility in Victoria.
2007/08/09 Exhibited at "Art Melbourne" in April.
2008 Finalist at the "Churchie" exhibition in Queensland.
2008 Solo exhibition at The Global Gallery in Sydney.
2008 Exhibited at the "Maximum Exposure" group exhibition at Rialto Towers in Melbourne.
2008 Group exhibition at Gallery 26 in NSW.
Finalist at the 2008 Kodak Salon at the Centre for Contemporary Photography in Melbourne.
2009 Exhibited 4 images at The Contemporary Art Fair in Beijing, China.
2009 Works published in Lip Magazine and Rythum UK magazines.
2009 Work chosen from "Hearts At War" photographic series for cover of Griffith University Law Review.
2009 Exhibited at the "Picture This" group exhibition at the BSG in Melbourne.
2010 Exhibited at "The Art House Photographic Exhibition" in Melbourne.
2010 Exhibited at the "Darkside" exhibition in New South Wales.
2010 The series "Born From This Earth" exhibited at Art Melbourne.
2011 Work Published in BSX Magazine
2011 Guest Judge for Student Art Show at St. Albans Catholic Regional College.
2012 Guest Speaker at The Geelong Camera Club
2012 Art work featured in Jan/Feb edition of HGTV Magazine San Francisco